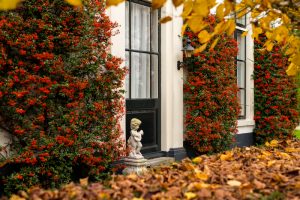 It's officially fall —the seasons have changed! Have you noticed the shift in places you frequent? Grocery stores are sporting pumpkins and apples, clothing stores are filled with muted plaid long-sleeved shirts and cozy scarves, and restaurants are featuring new specials—think portobello ravioli or roasted acorn squash.
Just like those places, your landscaping is ready for a change, too! And Fall is the perfect time to not just ready your lawn for winter, but to add special decorative touches that amp up your curb appeal—and just might make you the envy of your neighbors.
You might think that you have to make major changes to improve your fall landscaping, and it's true that big projects like retaining walls or outdoor kitchens can make a huge difference. But there are more modest, easy to implement ideas that will enhance your landscaping and increase your curb appeal. Here are a ten of our favorites:
1) Start with a Clean Slate
We talk about Spring cleaning, but Fall cleaning matters too! Power wash your hard surfaces, clear out your gutters, and remove debris from your space. This is the first step to making your landscape shine.
2) Mulch, Mulch, Mulch!
Not all mulch is created equally. Sure, mulch is practical: it helps prevent weeds and can make your space look better. But you have a choice when it comes to which mulch you use. Instead of picking up a discount bag, check out shredded hardwood mulch—or try a colored variety.
3) Break Out the Shears
Fall is a good time to prune bushes and trees, but there's a catch: you have to do it at the right time. Learn more here.
4) Add Color
Mums are the (un)official arbiter of Fall flower beds. Choose from yellow, rust, orange, red, or purple and pair them with ornamental cabbages or peppers for a potted arrangement that screams bonfires and s'mores.
5) Focus on Your Porch
Think of your porch like you would your dining room table and plan a display that reflects your personal or family aesthetic. Love Halloween? Turn your porch into a spooky spot with store-bought decorations. Prefer Thanksgiving? Stack a hay bale or two, strew various sizes of pumpkins, add a bench with a cozy blanket.
6) Short on Space?
Even if you don't have a porch to decorate, you can spiff up your entryway to welcome the season. You might consider painting your front door an interesting new color. If that's too much of a commitment, opt for a new wreath.
7) Light it Up
Even if you don't have substantial installations like a retaining wall, you can add lighting to enhance your curb appeal. Try pathway lights that sink right into the ground or hanging lanterns to add a spooky (or welcoming) glow.
8) Replace Bulbs
While you're at it, make sure your existing lighting has fresh bulbs. It's starting to get dark earlier, which means longer hours for porch and other outdoor lights. Be prepped and ready.
9) Keep Raking
As the leaves fall, it's important to keep your lawn free of debris. Surprise wet or snowy conditions can trap extra leaves and lead to unwanted lawn issues. But don't worry if you don't get every single stray leaf; once you mow, you'll shred any stragglers that might cause problems.
10) Take Note
As you enjoy the chilly air and spend time outdoors, think about what you want for your space next Fall. Wish you had a firepit? Dream about firing up the outdoor oven to prep a pizza? Think having an outdoor dinner party would be fun—but you just don't have the right set-up? Write it down, then call us. We'll work with you to make your space perfect for you.