Why Choose Us
---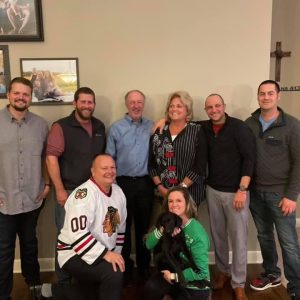 OUR GUARANTEES
Huston Contracting, Inc. has been in business for almost 50 years serving the Johnson County area. Our goal is to provide excellent customer service, high quality workmanship, communication, and dependability. We will work with you and your budget to accomplish the goals you have set for your project and will deliver exceptional service from first contact to job completion.
HONEST AND DEPENDABLE
For us, honesty is the only policy and we strive to complete all projects with integrity, not just with our clients, but also our suppliers and contractors.
WE ARE ALWAYS IMPROVING
We commit ourselves to complete all projects within the timeline set with our clients. We use the best of technology and tools to ensure that all jobs are done quickly but also giving attention to details and ensuring everything is done correctly.
Testimonials
This review is much overdue, but definitely needed! We could not recommend Huston Contracting enough. We met with Anthony Marriott in early spring to discuss options for a new backyard space. We had ideas in our minds, but nothing specific or concrete. Anthony took those ideas and created a GORGEOUS design. It was exactly what we wanted, but did not know how to articulate. Huston transformed our space into a backyard oasis, where we now spend the majority of our time. It is simply STUNNING, and we are so in love with it. Thank you, Anthony and Huston, we could not be happier.
Whitney Sondall Smaha
Anthony came and helped design a wonderful patio and outdoor gas fireplace that exceeded our expectations. The team, Rob and his crew, all were super friendly and patient as we made changes even after work had started. I would highly recommend Huston contracting.
Jordan Haldeman
OUR HISTORY


Today, April 5th is the official day of our company's incorporation in 1966. On this day, we recognize 50 years of doing business in Olathe and Johnson County. We are extremely grateful for all God has allowed us to accomplish.

We would like to thank all of those who have been a part of this journey with us in past years as well as all of those who faithfully serve with us today. We are proud to have spent our entire 55 years in the Olathe community. We would like to thank the Government Officials, along with the many Community Leaders who have endeavored to cultivate a positive business environment in which we can grow and prosper. We would also like to recognize the many friends we have developed over all of these decades. Your common sense approach coupled with insight, intellect, and business acumen have contributed immeasurably. Thank you!

We have survived a multitude of economic conditions and that there is a time and season for everything under the sun. They taught us perseverance necessary to sustain our business. It has been a blessing for us to give back to our community in many different ways. How easy we all forget the blessings from God. Reasoning in our own minds that we accomplished this by ourselves. May it never be!

God Bless,
Doug and Mary Huston
In Loving Memory of DaOnne Huston
On behalf of our President and owner, Douglas M. Huston:
Today we are saddened to announce the passing of the last original founder of Huston Contracting, Inc. DaOnne Huston has passed away at the age of 87. She played a significant role in the early days of Company performing bookkeeping and accounting services, while maintaining her 40 hour work week as Secretary to the Principal at Olathe High School.
DaOnne lived out her faith each and everyday by reaching out to those with the greatest needs. She prayed daily for the entire Company and often provided words of wisdom and encouragement. She was loved by many and will be sorely missed.
Mrs. Huston's work here on earth has now been completed. She is at home for all of eternity in the presence of her Lord and Savior Jesus Christ. We ask you to join with us today in celebrating her life and legacy.