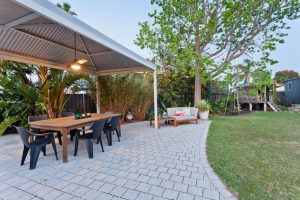 When temperatures rise and you want to keep your home as cool as possible, cooking in your outdoor kitchen is the best solution. Which elements make an outdoor kitchen the best it can be? That's simple: a grill, a fireplace, a patio, shade, and ample seating.
Outdoor Kitchen Must-Have #1: The Grill
Let's face it: when we think of cooking outdoors, we think of grilling. Whether it's a quiet family night or a bigger gathering, having the right grill means easy but delicious burgers, steaks, seafood, and veggies. You can even make dessert on the grill! Fruits like peaches and pineapple are easy to grill and mouthwatering on their own or when paired with ice cream. And if you want to try something new and fun, you can even make a unique salad on the grill! Hint: there's watermelon in it!
Key factors to consider when choosing an outdoor grill include the energy source (natural gas, electric, or propane), location, ventilation, and budget. If you dream of a built-in grill under a stone awning, for example, you'll need a proper ventilation system. And think about the food you love to grill and what flavors you want. Charcoal can be messy but gives food a flavor unlike any other.
Outdoor Kitchen Must-Have #2: The Fireplace
What's an outdoor party without s'mores? OK, it's true—there are more benefits to a fireplace than just sweet treats. Depending on how you use your outdoor space, those benefits might include warmth for cool evening gatherings, a design focal point, or simply the ambiance of a roaring fire on a summer evening.
Key factors to consider when planning an outdoor kitchen fireplace include budget, material, design aesthetic, and layout. Like a built-in grill, having proper ventilation is important. Knowing if a fireplace will impede traffic or block a view matters, too. A skilled landscape architect will help you determine the best place in your backyard to put a fireplace. They can also help you decide if a custom-built fireplace is best or if opting for a pre-built package is a smart solution.
Outdoor Kitchen Must-Have #3: The Patio
An outdoor kitchen is an extension of your indoor living space, so it makes sense that you'd consider some of the same factors when planning. Perhaps one of the most important considerations is how you'll use the space, and there's a high likelihood that gathering with others, whether that's family or family and friends, will be high on the list. Having the proper space for others to sit and stand is important—and that's where a patio comes in.
Key factors to consider when planning an outdoor kitchen patio include budget, space, materials, and the intended use of the space. The placement of a patio can create the layout of your outdoor space. When planned properly, it helps designate areas: lounge chairs and bench seating for casual gatherings, a table and chairs for sit-down events, and space to move in between are important.
Outdoor Kitchen Must-Have #4: a Pergola and/or Shade
Because most people migrate outdoors when the weather starts to warm, it makes sense that planning for added sun protection is an important part of your outdoor kitchen plans. Adding a pergola can not only create the illusion of a room outdoors, but it can offer shade and much-needed relief from direct sunlight and extreme heat.
Key factors to consider when choosing a pergola or shade option for your outdoor kitchen include design aesthetic, space, and budget. Like so many other elements of your outdoor kitchen, you have countless options of materials and design. Working with your landscape expert can help make those decisions easier.
Outdoor Kitchen Must-Have #5: Seating
Outdoor kitchen seating is all about comfort and function. Planning lots of meals eaten outdoors? You need a table and chairs. Envision many a night spent around the fireplace, sharing stories and laughter? You need individual chairs and benches to accommodate additional people. Truth is, most outdoor spaces need both types of seating.
Key factors to consider when choosing your outdoor furniture start with function: how will you use the space? Then you can consider budget, design, and space planning.
Ready to explore the idea of building your dream outdoor kitchen? If so, we'd love to share our expertise with you. Contact us to learn more.