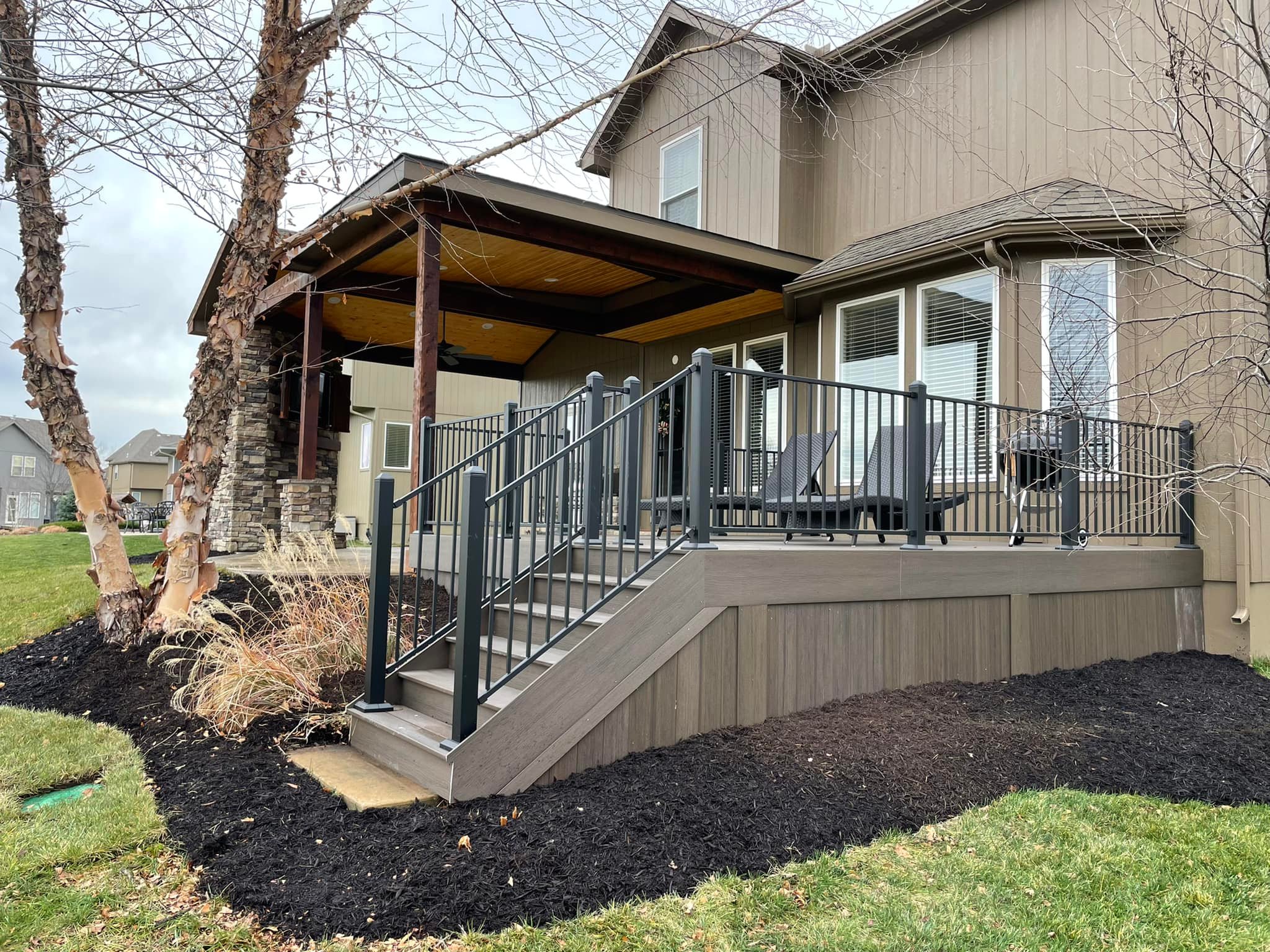 Add a Deck to your Backyard to Make it a Stunning Retreat.
A well-designed deck can be a great addition to your house. It not only adds elegance to your outdoor living space, but also enhances your property value. Creating and designing a deck can be an endeavor. But with proper planning and execution, you can create a beautiful and aesthetically pleasing personal space for you and your family to enjoy leisure time.
Do you aspire to design and create the ideal deck for your home? This is where we come into the picture. Huston Constructing Inc. is an Olathe deck company with fifty years of experience designing and building amazingly decks. Every backyard needs a child-friendly deck that is both functional and safe. We work closely with our customers to make their dream come true and make your house more aesthetically beautiful!
Why Should You Build a Deck in Your Backyard This Summer?
Do you want to improve your outdoor living space? Take a look at Huston Contracting Inc, your friendly Olathe deck company! We can build the ideal deck for your house using excellent craftsmanship and attention to detail. Olathe deck companies like ours provide a small space to unwind with your morning coffee or a large area for entertaining friends.
You can be confident that with us, getting the finest of the best. Our expert workers are dedicated to constructing attractive and usable outdoor areas, and they only use the highest quality materials to ensure that your deck will last. They provide a wide choice of solutions to suit everyone, from classic wood to low-maintenance composite decking.
Yet, Olathe deck company does not end with the construction of your deck. They also provide several add-ons and customizations to make your deck one-of-a-kind. They can help you design a personalized deck to your needs and lifestyle, from built-in seating and plants to lighting and music systems.
How Does Olathe Deck Company Build a Deck?
1. Plan Your Deck
You must plan your deck before you begin construction. Consider how you want to utilize the deck, how much space you have available, and the materials you intend to use. To help you imagine your deck, draw out a preliminary design or utilize a deck planning tool.
2. Choose Your Materials
You can create your deck with multiple materials, including wood, composite decking, and PVC. Each material has advantages and disadvantages, so when selecting your decking material, keep your budget, maintenance needs, and personal preferences in mind.
3. Get Permissions
Depending on where you live, you are required to secure permissions before beginning construction on your deck. Check with your municipality to discover what is necessary for your region.
4. Lay the Groundwork
Your deck's foundation is important to its lifespan and stability. A firm, level surface, such as a concrete pad or a well-prepared gravel base, should be used to build your deck. You may also need to construct footings to sustain the weight of your deck.
5. Set up Your Decking
You can begin placing your decking material after your structure is in place. Follow the manufacturer's installation directions and use the correct fasteners for your decking material. You should also think about applying a finish or stain to your decking to preserve it from the weather.
6. Railings & Accessories
Eventually, you may finish your deck by adding rails, steps, and other decorations. Your railings should be strong and secure and comply with any local safety requirements. You could also want to consider adding lights, seats, or other features.
Don't worry if you're not sure where to begin. Huston Contracting Inc provides individual design consultations to help you create and realize your ideal deck. They will collaborate with you to fully comprehend your vision and give recommendations based on their years of experience and knowledge.
So, why wait? Call us now to begin enjoying the outdoor living area of your dreams!