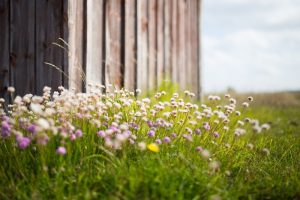 We talked about snow in our last post but make no mistake: it's still summer in Kansas! And we all know that that means: it's hot, sticky, and we'd all rather be inside where the air is cool and there's something sweet to drink!
There's an easy way to make that happen. You call us, your local Olathe landscapers. That's it! We'll take it from there so you can relax, work on other projects, and still have a gorgeous lawn.
Summer Lawns Need Extra Care…and So Do You
Summer lawns don't need just water, though that's an important part of maintenance. Hot weather lawn care requires a balance of the right moisture, the right mowing, and the right fertilizing. There's a science to all of this that we understand because we are professional landscapers, and experts on Kansas City soil and how to care for it.
We also know that heat exhaustion is real. Trying to soldier through and work on your lawn in the hottest of temperatures can be harmful to your health. There's sunburn to worry about, bug bites to scratch, and dehydration. All of those conditions can range from mildly annoying to serious. Heat exhaustion, too, is a real concern.
Study Up
Summer is intense, there's no doubt about it. This means how we treat your lawn has to change with the season. We realize that the clay-packed soil here in the Kansas City area requires a specific watering plan. Our crews know how often to mow (hint: it's not as often as in the Spring). We are familiar with which seeds and fertilizers will work and which are a waste of money.
We also know that while some things are common (the type of soil we have here, the temperature, etc), your lawn is unique. Letting us tackle the hard, sweaty work of summer lawn care leaves more time for you to dream about—and plan—your perfect space. Ask us how to make that outdoor kitchen a reality or whether or not you need a retaining wall. We're here to help.
Change is Coming
The good news is that the stifling heat of summer won't last forever. Before we know it, we'll need a sweater once the sun sets and then we'll be planning for snow. Working with professional landscapers means your lawn will be ready for these changes, too.
Want to put your mind at ease by creating a yearly lawn and landscape plan? Reach out. We'd love to talk with you.