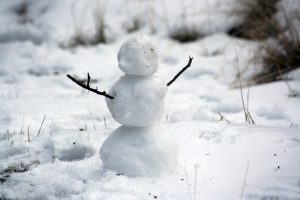 Let's talk about snow. Yes, snow! We know it might sound a bit premature to be thinking about the cold, white stuff now, since we're still knee-deep in summer. But trust us: it's better to think about—and plan for—snow now, than it is to wait until Mother Nature has covered Kansas City and left us scrambling for shovels.
When you think about it, contracting commercial snow removal services is no different than relying on your Olathe landscaper for summer flower beds. Snow removal can be hard work and, because weather in Kansas City can be unpredictable, dealing with winter storms can require more manpower and expertise than you might have.
The Right Tools Mean a Job Well Done
One of the most important things a commercial snow removal service can do is show up with the right tools. The shovel you use on your driveway won't clear a parking lot—and trying to clear snow from even a small space can take much more time than one might think.
Whether you have to shovel a driveway and a sidewalk so you can come and go from your home, or a parking lot so your customers can still come to your business to shop or purchase your services, relying on professionals to clear the path means that work will be done quickly.
Using a Commercial Snow Removal Service is Smart Business
If you're a DYI'er you might think that clearing snow is something you can do easily on your own. That might be true—sometimes. If the snow is more of a dusting that a deluge, you might be right. It might even be fun to suit up and play for awhile (snowball fight and hot chocolate, anyone?)!
But if you own a business, snow removal isn't about fun. Snow and ice can mean liability issues, and liability issues affect the bottom line. It's smart to check with your insurance company to make sure that you're doing everything possible to create a safe, passable path for customers, employees, delivery people, and even strangers who might set foot on your property.
It's About Time
OK, we'll admit it: playing in the snow can be fun! A good old fashioned snowball fight, picking the perfect carrot so your snowman has a nose, even forging an igloo in your front yard—many a perfect photo has been snapped with a perfectly white backdrop and cherry red cheeks.
But the thing is, we all have incredibly busy lives. There's only so much time to get everything done. If you're shoveling and snow blowing, that's time taken away from making snow angels with your kids or grandkids. It's energy expended that could be spent making new memories with the people you love.
We're not just a landscape company. We're people who love family and know how precious every moment is. Let us do what we do best—even when it snows—so you can do what matters most to you.