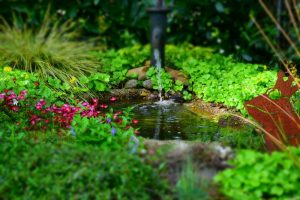 When we talk about landscaping, so often we focus on what grows in your space. Lush grass, strong trees, colorful flowerbeds: they're all common elements of a beautiful lawn and garden space.
But there's another category of landscaping feature that also deserve as much attention, and that's water features. Not sure what a water feature is? Most commonly this category includes waterfalls, koi ponds, and natural creek beds.
These water features share some common advantages. They can add visual drama and texture to a space. They can be environmentally friendly by helping to conserve water and by providing safe spaces for friendly critters. And they can improve mental health and provide other documented health benefits.
Read on to learn more about the benefits of incorporating one or more of these elements into your landscaping.
Waterfalls
Let's start with one of the most striking elements you can add to your outdoor space: a waterfall. Not only can a backyard waterfall be a visually stunning focal point of your landscape; it can also help create a calm space that promotes rest and contemplation. Studies have shown that the sound of moving water can help reduce blood pressure and countless people meditate to the sound of waterfalls via phone app and headphones. Adding this feature to your backyard can help you create an oasis that multi-tasks as both beautiful and therapeutic.
Natural Stones
Deciding which materials to use when constructing a water feature for your landscape is an important decision. Natural stones offer unique advantages. One of those advantages is that water flows differently over and through natural stones than it does over other surfaces like soil or synthetic building materials. This could potentially improve drainage in your yard, which both helps your landscape look better and keeps the living elements of your yard healthy and flourishing.
Koi Ponds
Like waterfalls, koi ponds can bring a calm, relaxing aesthetic to an outdoor space. But a koi pond is more than just a pretty addition; a koi pond becomes a home to countless living species, and not just fish! A koi pond provides a place for snails, crustaceans, and insects. In addition to providing a home to other friendly creatures, koi ponds can help reduce mosquitos in your yard.
Underwater Lighting
In nature it's sometimes difficult to enjoy water features—like a pond or a waterfall—after sunset because it's impossible to see. The same doesn't have to be true of your home landscape. With the right underwater lighting, water features can provide around the clock benefits without being intrusive. Working with experienced landscape architects to determine which underwater lighting sources are best for your particular landscape is the best way to ensure the water feature you choose can be enjoyed as often as possible.
Natural Creek Beds
A natural creek bed can be just as dramatic a focal point as a waterfall or a koi pond. It can also serve to add interest to a space, provide sunny and shady areas, and divide space for different purposes.
Ready to explore the idea of adding a unique, stunning water feature to your landscape? If so, we'd love to share our expertise with you. Contact us to learn more.