How Outdoor Commercial Spaces Can Benefit from Working with a Landscape Architect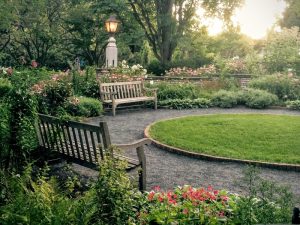 If you've read our blogs, you might notice that we talk quite a bit about how to make your outdoor living space the best it can be. But outdoor spaces aren't limited to residential areas. In fact, if you look closely, you'll see that a landscape architect can have a hand in planning and improving almost every area, from shopping malls to office parks and more.
Commercial properties have different challenges than residential properties. Their intended use is different, of course: we live in our homes but we come and go from our workplace. That doesn't mean, however, that the outside environment of our workplaces don't impact our daily lives. They do—and because that's true, we think it's important to make those spaces as good as they can possibly be.
You don't have to settle for uninspired, utilitarian outdoor commercial spaces, especially if you work with a landscape architect and landscaping firm that specializes in custom solutions. Keep reading for a few ideas of how you can improve your outdoor commercial space with our help.
Tips from an Olathe Landscape Architect
Option #1: Get Shady
Just like residential spaces, outdoor commercial spaces can feel oppressive and unpleasant when the elements are just too much to handle. Think of how uncomfortable it is to sit outside on a patio on a hot summer day when the sun is at full strength. This is the same in an outdoor commercial space.
At the same time, office workers and others in a commercial building might go outside looking for a break from work or whatever is happening inside. Having a space with a built-in shade structure, such as a covered deck or patio, might be the perfect solution.
Creating a shady space means that outdoor seating is more comfortable and might actually provide a spot of rest and relaxation for people throughout a hectic workday. This not only looks nice; it can also improve productivity and morale.
Option #2: Add a Feature
This could be a water feature or a fire feature. It might seem elaborate, but it's not. For example, Kansas City is the city of fountains, and those fountains come in all sizes. Water features are proven to be relaxing. The sound of the water from the fountain can also work like white noise does in an office; more than one conversation can occur in a space, but a modicum of privacy can still be maintained.
A fire feature can be a fantastic spot for colder weather months. Businesses with a fire pit and seating might use the space for teambuilding exercises, client gatherings, or for entertaining.
Option #3: Invite the Community
If your business if community focused and you have the space, there are countless opportunities to use part of your outdoor space in this way. Consider a community garden, plant a fruit-bearing tree, or use a hydroponic garden tower and invite employees and others to help themselves to herbs and fresh greens.
Granted, this last option might take a bit more coordination and planning than just building a bench or adding outdoor seating, but for the right business, it could be a great way to invest in the community.
For more great ideas, reach out to talk to our team.