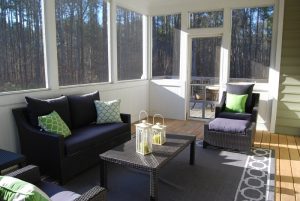 Things to Consider About a Screened-In Porch
One way to increase your living space is to enclose spaces that are outside so that you can use them year-round (or nearly year-round). A prime example of this is turning your porch into a screened-in porch.

A screened-in porch is exactly what it sounds like: a porch (it can be either your front or back porch) that's screened in. This creates a room rather than a simple porch. Here in Olathe, a screened-in porch won't be comfortable in the depths of winter, but it can offer you additional living space in every season.

Should you consider adding a screened-in porch to your property? Read on to find out.
Question 1: Do You Want Extra Living Space?
Do you need more space in your home? While a screened-in porch won't give you extra kitchen or bathroom space, it will give you additional living space.

What does this mean? It means that your screened-in porch could be a sitting room. Or a reading room. Or an office. The specifics will depend on your home and whether you have a front or back screened-in porch. But by turning a porch into a screened-in porch, you're creating another room that can be use for multiple purposes.
Question 2: Do You Want to Increase Your Home's Resale Value?
While it's true that adding a screened-in porch to your home is an investment, it's also true that it can increase your resale value. That's welcome news if you don't think your current home is your forever home.

Why does a screened-in porch increase a home's resale value? It's because outdoor improvements in general are a good idea. But here in Kansas, where summer is more enjoyable when we're protected from weather and pests, having a screened in porch can increase a potential buyer's interest in your property.
Question 3: Do You Want Your Home to Look More Interesting?
Sometimes the question of whether or not you should invest in a home improvement project comes down to whether or not you like how it looks.

Take a long, objective look at your porch. Does it inspire joy? Does it look as beautiful as you'd like it to? Or do you see areas for improvement?

Can you imagine having coffee on your screened-in porch on beautiful fall mornings? Or sitting with friends to chat late into a summer evening? How about being able to keep pretty and comfortable furniture in that space, since it will be protected from the elements?

Loving your home is one of life's most simple but yet luxurious pleasures. If having a living space that combines the best of indoor and outdoor living appeals to you and would be joy and satisfaction to your everyday life, that's reason enough to explore your options.

We're always here to discuss your projects with you. If you're curious about whether or not your space would convert to a screened-in porch well or if you can afford such an endeavor, give us a call. We'll talk through things with you to better understand your goals, then share how we can help.