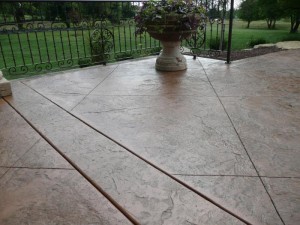 Have you ever taken a good look at the foundation of your outdoor living space? The ground under your feet on your patio or deck isn't just your lawn—it's a foundation built of material like wood, stone, or concrete.
Concrete foundations offer particular advantages. They can last longer than wood and they withstand weather well. And, because concrete is poured, it can be designed in a way that enhances the overall aesthetic of your space.
But concrete isn't a one-size-fits-all decision. It can be colored (stained) or stamped to create a look you love. Keep reading to learn a few of the differences between stained and stamped concrete.
What Is Stamped Concrete?
Stamped concrete is concrete that is poured and patterned to create an entirely different look. Stamping concrete allows you to emulate the look of brick, stone, slate, tile—and countless other options. It's common to stamp concrete for patios, decks, sidewalks, and driveways.
The process of stamping concrete is akin to using a cookie cutter to make shaped cookies in that the concrete is stamped in a way that markings are left in/on the concrete so that as it dries, the markings and indentations become permanent. This is how a landscaping company can turn a smooth slab of concrete into a surface that looks like brick, for example; rather than creating the surface brick by brick, one pour is stamped to look like brick.
What Is Stained Concrete?
Stained concrete is concrete that has been tinted to another color. Think of it as wood stain but for concrete—it can be opaque or translucent, shiny or matte, monotone or ombre. Staining concrete can turn a space from industrial-looking to sleek or homey, depending on the colors and finishes selected.
The Advantages of Stamped Concrete
Adding stamped concrete to your outdoor space increases your design options. No longer are you limited to a plain foundation slab; now you can build something that looks like natural stone but has the durability of concrete.
One advantage of opting for stamped concrete is budget. Because stamped concrete can last longer and is easier to maintain than natural elements, it requires less money as it ages. And, unlike wood, it doesn't need to be replaced as often. Another advantage is maintenance. Stamped concrete can require less upkeep than stone or other natural elements.
The Advantages of Stained Concrete
More and more people are opting for stained concrete because it can combine the best of both worlds: economical durability and creative license. The colors concrete can be stained are limitless, which means design options are plentiful. And, depending on how much work and detail you want your space to have, a stained concrete foundation can be a work of art in and of itself.
No matter which option you find most interesting, it's always a good idea to discuss your plans, budget, and timeline with an experienced landscaper. We're here and eager to help when you're ready.