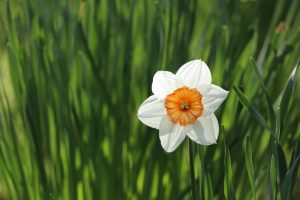 While Spring doesn't officially happen until March 20th, the days here in Olathe and surrounding areas are starting to feel like the season is already here. And you know what that means: it's time to pay attention to your lawn and landscape! This is true if you want to make big changes as the weather gets warmer, but it's also true if you just want to revive your space. No matter your plans for the coming year, doing these few things in Spring will ensure a beautiful lawn and landscape.
Take a Good Look Around
You don't know what you can do until you know what you're working with. Once the temperatures start to warm, you can start inspecting your lawn and landscape. Pay particular attention to shrubs and trees. Look for broken branches and overgrowth, and prune if necessary.
This is also an ideal time to assess the possibilities your space has to offer. Look around: do you have a sunny spot that might be good for a flower bed? Or a partially sunny corner that might be a great home for an herb garden? Take a little time to think about what you want in your space. Maybe a birdbath and bird feeder, or a butterfly garden, or even a new gazebo or outdoor kitchen. The first step is assessing your space and seeing where there's potential to grow.
Get Your Tools In Order
If you stored your tools properly before the cold temperatures set it, this step might be as simple as unpacking everything. But if you let hoses sit out during our freezing temperatures or if you let your tools sit outside, where they were subject to moisture and rust, then you might have to take inventory. While some tools can be cleaned and used again, others might need to be replaced.
Prep Your Soil
Do you know the Ph of your soil? Have you determined the right fertilizer and how often it should be applied? How about nutrient profiles—do you know what your soil needs and how to supply it?
It's absolutely fine if you answer those questions by saying no. Spring is the perfect time to assess all of this information. Connect with your local extension office (many offer free soil testing) or visit your favorite lawn and garden store. Once you know how to best nourish your soil—and which plants will grow best in the soil you have—you can plan the lawn and landscape of your dreams.
Spring Clean Your Yard
Spring cleaning isn't just for kitchens! Take this time to rake leaves and other debris, clean up refuse that got trapped under snow, and clean up the edges around your lawn, trees, and flower beds.
Want help turning your Johnson County landscape from boring to gorgeous? We'd love to talk to you. Shoot us an email or call—or visit our Facebook page to see various projects.