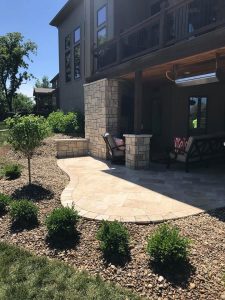 Hardscape: it's a word you might not know, but you've certainly seen it in landscaping. Simply put, hardscapes are the solid, hard elements of your landscape design that remain the same for years. Unlike trees, grasses, and flowers that can change with the season and your preferences, hardscapes are often static. They are the foundation—or the base and/or structures—that determine the design, organization, and look of your space.
Elements like patios, walkways, outdoor kitchens, water features, retaining walls, decks, and driveways are hardscapes. Once completed, they don't change unless major projects require they do so, or if major repair is necessary. Of those various hardscape elements, patios are one of the most popular.
Why invest in a hardscape project or new patio?
Design aesthetics aside, there are practical reasons to include a patio in your landscape plan. The obvious is the creation of additional outdoor living space. By turning part of a grassy or barren area into a patio, you can extend your living area. This creates room for relaxing, entertaining, cooking, and a myriad of other outdoor activities.
Practically, patios also make financial sense. Patios are typically less expensive to install than decks. Patios also usually require less maintenance. The drawback might be that installing a patio may not increase the resale value of your home as much as a deck might.
What are my hardscape options?
The best landscapers in Olathe will tell you that you have countless options in patios. One of the first choices to make is whether you want your patio to be ground level or raised. Like retaining walls, raised patios can help with uneven slopes on your property. They can also create a more dramatic, unique look that can enhance your overall landscape design.
Your choice of materials for a patio, whether ground level or raised, are different than that of decks. Decks are usually built from wood, composite, or plastic. Patios can also be built from wood, though it's a choice that requires more maintenance and frequent replacement when compared to materials like stamped concrete, pavers, stone and flagstone, gravel, or tile.
How to Choose the Right Patio Material
The first step is to talk to your landscape designer. We can help you determine the best use of your space and the perfect material for our personal design preferences. We'll also help you determine the best options for climate concerns. And we'll talk about your willingness/ability to maintain and repair your hardscape.
It's also important to think about how you want your patio to look. Concrete is a popular option but offers little design appeal, as it can be bland. Stamped concrete can fix that by offering more design options. The downside is that it also requires more upkeep. Gravel is the most popular patio option and is affordable. Stone and flagstone are elegant and beautiful, but also expensive.
Ready to design the patio of your dreams? Check out our previous projects and call to discuss how we can help you turn those dreams into a reality.