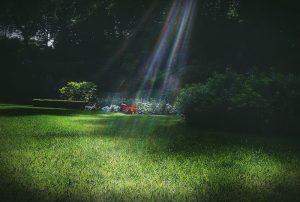 With summer comes hot, sticky days; and for Olathe landscaping, it could mean trouble. Most sources say temperatures in the Kansas City metro area hover in the 90-degree range. If that makes us sweat, imagine what it does to our lawns! If not properly cared for, lawns can suffer in the summer. Grass can wilt and even burn if the temperatures rise and care isn't adjusted to beat the heat.
The good news is that there are ways to help keep your Olathe landscaping and lawn healthy and beautiful all summer long—and one of those tactics means you get a break from being outside!
1) Water More When the Temperature Spikes
Just like your body needs more water when the temperatures rise, your lawn requires additional moisture to stay healthy. Believe it or not, there's science behind how often you should water your lawn. Factors that matter include the type of soil in your lawn, the slope of your property, and the type of grass you've planted.
Kansas City's dirt is clay-packed and absorbs water at a rate of no more than two-tenths of an inch per hour. Slope matters here too: a flat area can take less water than an area that is sloped.
There are different schools on summer watering. You can learn about the soak and cycle method, which is what the K-State Research and Extension Office recommends. Or you can call us, and we'll help you devise a customized plan to keep your summer lawn lush.
2) Mow Less
That's right—stay inside and drink something cool, and don't worry about mowing as often as you do in the Spring. When you do mow, make sure to mow no lower than 3 inches. Doing so alleviates some of the stress lawns experience due to dryness and heat.
Of course, exactly how often a lawn should be mowed will depend on too many variables to account for here. A general rule of thumb, though, is to mow less often than during cooler months. We can help you understand when to cut your grass and when to let it grow. Just ask!
3) Utilize Water Efficient Seeds and Fertilizers
There are countless scientific advances that benefit our lawns and landscapes, especially when temperatures are a concern. In summer months, it's best to opt for seeds and fertilizers that are optimized to work best with less water.
Doing so doesn't just make your space prettier, it also conserves water during the summer, which is vital to the community as a whole—and it sure helps with those water bills!
Curious which water-efficient seeds and fertilizers are right for your lawn? We're here to help.