Why Hiring a Professional Snow Removal Company is Good Business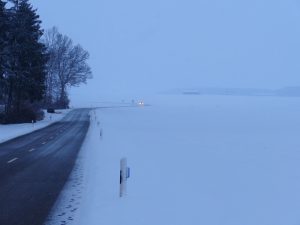 It's true: Olathe hasn't seen as much snow as we have during some winters. Temperatures have been downright balmy, even on some days in December. But don't let the mild–and unseasonable–weather fool you. It is likely that there will be snow at some point, and the need for a professional snow removal company.
When that time comes, you can save time, aggravation, and energy if you hire a professional to remove it. If you truly want and need to DIY snow removal this year, we've shared some tips to keep you safe while doing so. But snow removal can be hard, arduous work. That's especially true if you don't have the right tools and equipment.
Provides Access

Think of grocery stores when the forecast includes a snowstorm. The bread and milk aisles are empty. Toilet paper is scarce. People run out and stock up because they want to be sure that if they're stuck and unable to travel, they still have access to the products they use.
The same is true with finding a snow removal company once the weather has already gotten bad. If you wait to call around after the storm hits, there's a smaller chance you'll find a company with room on their schedule to service your needs. There's also the very real possibility that if you do find someone with capacity, it will take them longer to clear your snow.
Having a company on standby ensures that when the snow comes, you'll be among the first to have your snow cleared.
Protects Your Budget

When you think about professional snow removal services, your mind might go immediately to budgets. How much will snow removal at your Johnson County, Kansas, business cost? How much do snow removal companies charge per hour? Can you afford to have a snow removal company on contract?
Those are all valid questions. The simple answer, to all of them, is this: it depends. Not all companies charge the same rate or operate in the same way. We can't speak for other snow removal services in Johnson County or the Olathe area, but we can tell you that our business is an outward expression of what we believe. We are active members of the community and we treat others fairly. We'd love to talk to you about your snow removal needs.
If we return to the grocery store in a blizzard scenario, you might remember news coverage of businesses charging more for basic items when they are hard to get, especially when there is panic because of inclement weather.
If you wait until the last minute to hire a snow removal company, you might not get the best pricing. Why? Because their service is at a premium and the demand has escalated.
Establishing a relationship with a snow removal company early in the season, and working with them year after year, can be easier on your bottom line than waiting until an emergency situation.
Provides Good Customer Service
In addition to being able to discuss your budget and find a solution that works for you, establishing a relationship with a professional snow removal service can improve business operations for everyone.
How? Because you won't be scrambling to get the sidewalks and driveways cleared, and customers can feel safe coming to your business. Employees will be able to come and go more easily. And the peace of mind you get from knowing that snow removal will be handled by a professional means you can focus on taking care of your clients and serving their needs.
Customer service is an integral part of our business. We focus on both service to our clients and service to our employees. We charge a fair rate in exchange. We won't always be the lowest price, but we don't consider that a bad thing. We have employees that we pay so they can care for their families. We offer exemplary service, which means we don't cut corners. We're happy to talk to you about our services and how they might fit into your budget.
We're always eager to talk about your projects, your needs, and your concerns. Reach out to start a conversation.