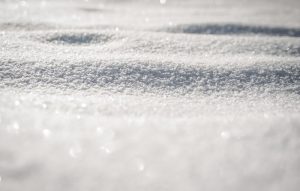 It's early November now and the afternoon temperatures feel close to perfect. But before we know it, we'll be dealing with colder temperatures and—sooner rather than later—we'll have to start thinking about snow removal. In fact, the Farmer's Almanac predicts that the Kansas City area will be colder and snowier than in years past.
What does this mean for you? If you have a business that depends on foot traffic or people being able to navigate your parking lot, it means you'll need snow removal services. It's something we do well—and something we'd like to help you learn more about. Keep reading to learn why contracting with a professional snow removal company can be environmentally friendly.
Grab Your Shovel!
It makes sense that the most environmentally friendly method of snow removal is by shoveling. Other perks of shoveling are cost (shovels and brooms are inexpensive) and exercise (is there a better workout?).
But there are also drawbacks and limitations. If you have a large area to clear, if the snowfall is significant, if you're short manpower, or if you have health conditions that prevent you from exerting yourself, shoveling won't be an option for you.
Add Snow Removal Equipment
If you have a small area to clear or the snowfall is manageable, you might be able to manage the chore by using a snowblower. If you're concerned about the environmental impacts of using such equipment, you want to pay attention to the power source.
Gas powered equipment has a bigger carbon footprint than equipment powered by electricity or batteries, so it makes sense to opt for equipment powered by the latter. That doesn't always mean, though, that those options are affordable or easily available.
But, like shoveling, snow blowing is often not a viable option for businesses. It might be that you have too many other tasks to do in the running of your business to make time for removing all that snow; or it might be that you don't have the staff or know-how necessary to get it done well.
If that's the case, contracting with a professional snow removal agency can be both an environmentally friendly option and it can help you save money and time in the long run.
Snow Removal Experts: We Get the Job Done
How can a professional snow removal company help save you money and time and protect the environment?
One way is by having the right equipment. Snow removal companies in the Kansas City area have industrial size snowplows and trucks; this means less time powering equipment, which means less of a carbon footprint.
We also know which products are safest to use. For example, some chemicals in deicing products can adversely affect your landscaping and road surfaces. By using the correct products, a snow removal company can efficiently remove snow without harming your landscaping, your parking lot, or our community's roadways.
There are countless other reasons to trust a professional with your snow removal needs, and we're here and eager to help when you're ready. Give us a call to learn more…before the snow starts to fall!