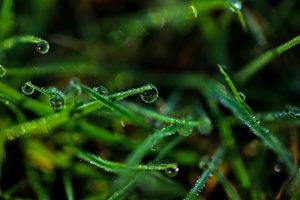 What is a Rain Garden and Why Should You Consider Having One?
All the choices you have for making your lawn and landscape look amazing can get confusing. How do you choose between a flower garden, herb garden, or even a rain garden? A gazebo or an extended deck? A fire element or an outdoor kitchen?
All of these decisions, no matter how economical or expensive, have multiple factors. Budget, of course. The amount of time you can devote to planning, executing, and maintaining the finished product. And, of course, the natural limitations of your property—including layout, space available, available sunlight, moisture levels, and more.
One feature to consider might be a rain garden. Read on to learn more.
What is a Rain Garden?
Rain gardens are comprised of native plants and grasses and are generally planted on a gentle slope of land, in a depression of the ground. The overall idea of a rain garden is to create a place that can temporarily hold water so it can eventually soak, slowly, into the ground. Rain gardens are an ideal way to leverage run-off from roofs, patios, or other sloped areas.
Why Native Plants and Grasses?
It's vital that the plants and grasses in a rain garden are native to the area. The reason is this: native plants have deep root systems. Those deep root systems are the best way to channel the run-off water that might normally erode a landscape deeper into the soil. This prevents erosion.
Native plants and grasses also thrive without the use of added fertilizers or chemicals, because they are uniquely able to grow in our exact conditions. This is important because the water that a rain garden collects will seep directly into the earth. Using native plants and grasses means fewer chemicals, which means there are fewer chemicals in the water that seeps into the ground.
What are the Benefits of a Rain Garden?
Like other gardens, one of the main advantages of a rain garden is how it looks. Because rain gardens are full of native plants and grasses, they are typically lush and full—and that means a rain garden can be beautiful to look at.
But rain gardens are also practical because they can help prevent erosion, which is normally caused by a runoff water, by giving that water a place to slowly seep into the ground. The native plants and grasses also filter storm and rainwater before it can get enter local waterways. Finally, rain gardens can provide a safe, abundant spot for birds, butterflies, and other wildlife.
Curious about ways we can help you create new, interesting spots in your lawn and landscape? From small projects to huge undertakings, we love working with clients to make their dreams come true. Give us a call or email for more information.