If you're itching to turn your unfinished basement into a space that will feel more like the rest of your home, but you're not quite sure what you want yet, listen up. In the next few posts, we're going to dig into a few ideas that are popular across the nation. This doesn't mean that you have to follow others as you design your space. Actually, the opposite is true: looking at what others have done can help you see the unique additions or designs that can turn your basement remodel from standard to stand-out.
A Few Easy Ideas for a Basement Remodel
1. An easy way to think of your basement remodel is to make it an extension of the rest of your home. How would you configure the space if it wasn't hidden away underneath the "main space?" How would you tie the spaces together to make them feel consistent?

You might even recreate what you currently have. For instance, maybe you want an open family space with a small kitchen; but you want that small kitchen to include a bar (alcoholic or coffee). Maybe you want or need more bedrooms to accommodate a growing or extended family.

Thinking of your basement as just another floor of your home, you can add living space without starting from scratch.

2. Or, you could go the opposite direction. Are you dying to experiment with a new layout or design concept? Like a sparkly concrete floor or an art studio, for instance? Maybe you want a sauna or a workout room.

These are examples of spaces we don't normally see in a person's home. Sometimes that's because you need all the space available for a family's day to day; but other times it's because the idea is just too "out there" to make sense. But anything is possible in a basement space. Get creative, go wild–nothing's off limits! (Except maybe ideas that don't measure up to code, but that's why we're here!).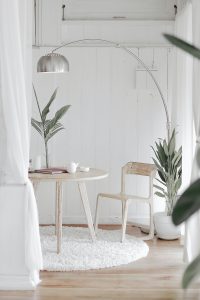 Your Basement Remodel: Think Outside the Box
3. You might consider turning your basement into an oasis for family and friends. If you have loved ones you'd like to see more often but they don't visit because of hotel or other lodging expenses, you might consider turning your basement into a space that will entice them to visit.

Think about what you'd want in a temporary home: easy access to a bathroom with a shower and bath? A luxury tub, maybe? Or a library with comfy chairs and a coffee or tea station so they can unwind?

No matter what your loved ones would like in a home-away-from-home space, we can help you build it.

4. The world might not be your stage, but your basement could be! If you love listening to music and dancing, consider a dance floor as part of your basement remodel. Or, if you're a musician, think about adding a stage. Or both: a stage and a dance floor!

It might sound extravagant, but pursuing hobbies and doing things that bring joy are keys to happiness. Having a space that nurtures your interests and hobbies can be a godsend when life becomes challenging; and having a space to share with others who lift your spirits is, too.

Creating a basement space that caters to your interests, no matter what those interests might be, isn't frivolous. It's attainable.
Stress-Free Basement Remodel Ideas
5. Or, you might want to just keep things simple. Instead of creating a space designed for one particular thing, you can create an open space that will accommodate many things. An open, comfortable space with the right furniture will give you and your family room to relax, watch TV or movies together, sleep, read, play board games…the options are as open as your imagination, especially when your space is flexible.

Stay tuned for more ideas, coming soon! In the meantime, if you're ready to talk about your Olathe basement, reach out. We'd love to help.