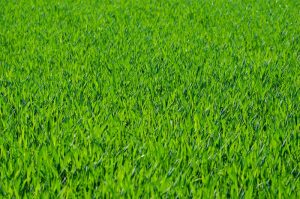 Yellow might be the perfect color for your favorite flower bed, but it's not what you want to see in your lawn! Spring means green—St. Patrick's Day, sure, but also lush, green grass. Read on for tips to turn your lawn into a space that makes your neighbors green with envy!
Aerate!
Aerating is the act of making small holes in the surface of your lawn. This allows water, nutrients, and air to soak deeper into the soil. This, in turn, nourishes roots—and healthy roots lead to healthy lawns! It's best practice to always aerate before fertilizing.
Fertilize, Seed, and Water
Do you know the right fertilizer to use for your specific soil and grass? Have you had your soil tested? The K-State Extension Office says that soil testing provides accurate information about the chemical makeup of your lawn, which will help you understand which fertilizer will best suit your needs.
After you've aerated and fertilized, it's time to put down seed. Not all grass seed is created equally, but we can help you determine what works best for your budget, your desired aesthetic, and our climate and soil conditions. If you decide to DIY your planting, remember that a general rule is that grass seed has the best chance of sprouting if laid in cooler weather. So you want to think early spring rather than just before summer.
Let the Sun Shine!
It's true that this one is out of our control, but there's no doubt about it: seeds need sun to sprout and grass needs sun to grow. What's also true is that taking the necessary steps above (aerate, fertilize, plant, water) means that when the sun does shine, your lawn will be ready to grow!
Ready to make your lawn the greenest it's ever been? So are we! Check out some of our work, visit us on Facebook, or shoot us a message. We'd love to help you plan and then create the lawn and landscape you've always wanted.