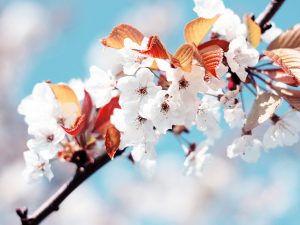 Spring has sprung. Wild winds are here, and the flowers are about to be blooming. It's landscaping season, again.
Here are eight March landscaping tips for you to do at home this Spring in Olathe:
Remove Winter Debris: First and foremost – make sure you remove any and all winter debris from your lawns, landscaping beds, and garden. Give your landscape as much sun as humanly possibly while they start to grow this spring.
Mulching & Pruning: March is the month to mulch and prune. The best landscape beds are tended to in the early spring before too much blooming takes place. Do some research on the types of plants in each bed and see if they need a good pruning in early spring or not.
Fertilize Trees Please: Except for a few rare types of trees, you'll want to fertilize them with a high-nitrogen fertilizer in March. This will ensure they bloom properly as the warm weather comes around.
Set Blades High: Never cut the grass too low in the early spring. You want your lawn growing and staying healthy. Try and keep your blades as high as possible during this time. At least 3″ or higher is essential to prevent brown spots from forming.
Don't Delay Hand Weeding: Stay on top of your garden and landscape with a little elbow grease. Hand weeding in the early spring can offer a lot of benefits to your landscape, including keeping weeds from growing out of control.
Stay Hydrated: As spring rolls in, your plants will start to get plenty of water. Rainfall will happen in the spring in Olathe. However, if there's a dry period, make sure to continue watering religiously. Your plants desperately need water during these important times of growth.
Avoid Over-Fertilizing: Hit your trees with a solid fertilizer in the early spring, but go light on the rest of your landscape and lawn. You'll want to use a little during the spring, but save the heavy fertilizing until later in the season – as you don't need it during the springtime initial growth rush.
The Olathe Landscaper For You
Landscaping in the spring certainly isn't confusing, but you need to do it right. If you're looking for a professional Olathe landscaper to help you with any projects, please get in touch. Here at Huston Contracting, we strive to keep Olathe looking green and lovely as the seasons change.