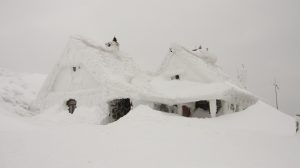 Snow. It's a school kids' daydream, an artist's muse, and an important element of more than one Christmas song. But for business owners, snow removal can range from a minor inconvenience to an expensive business liability.
While a business owner cannot control the weather—or whether or not it snows—there are things you can do to minimize the impact snow has on your business. Specifically, there are things you can do to minimize the cost of snow removal. Read on to learn more.
Plan Early
Like so many other elements of running a business, one of the major ways you can get the best price on snow removal in Johnson County, Kansas, is to plan ahead. If you don't yet have a trusted snow removal contractor to service your business, give us a call (or reach out to trusted friends for referrals).
Planning early and hiring a snow removal professional in Olathe before it snows gives you more leverage when negotiating the terms of that company's service. It also gives you the time to make decisions without needing to immediately make a decision. There's nothing worse than having to pay more than the going rate because everyone else is booked and your parking lot is full of snow!
Know What Matters Most
Knowing your priorities when it comes to snow removal can help save money in the long run. Give careful consideration to how big a space you need cleared to accommodate customers and their vehicles. Think about the most often used paths into and out of your business and docks. Ensure the right traffic patterns are clear, but consider leaving little used areas alone. Leaving some snow to melt on its own, provided that snow doesn't present a physical hazard or impede foot traffic, can save money.
Know Your Snow Removal Professional
Like any other business decision, you want to know in advance who you're working with. And working with a reputable, trusted, insured company can save you money. Why? Let's break it down.
Trust matters for so many reasons, one of which is manpower. If you hire someone you don't trust, you might have to have an employee there for backup and that employee (or employees) needs to be paid. There's also an important element of peace of mind—you want to know that the job is being done right the first time.
Making sure that whichever company you work with carries proper insurance is a must. If there's an accident on your property, you want to be sure you're not left in the precarious position of being financially responsible for damages. Of course, this is something you should always speak with your accountant and/or legal counsel about.
There are other ways to make sure you're getting the best deal on your snow removal needs, and we're here and eager to help when you're ready. Give us a call to learn more…before you have a pile of snow that needs to be moved!