Temperatures are starting to dip ever so slightly here in the Kansas City metro area, which means our thoughts turn to everything warm and cozy: sweaters and blankets, apple cider and pumpkin lattes, just to name a few. Just as this is the perfect time to switch out Spring and Summer décor for Fall colors and accessories in your home, it's also the prime time to turn your attention to your landscaping areas, such as your lawn and outdoor living areas.
Just because it's getting colder doesn't mean it's time to stay indoors! Take advantage of this time to not only bring some new color to your lawn and garden, but also to plan for the upcoming Winter weather. But first, here's the trick to bringing all of the following tips together: sit down with a calendar and plan when, what, and how you'll plant, tend, and maintain your landscaping as the weather grows colder.
Landscapers Share Tips for Fabulous Fall Lawns
How can you take advantage of this cooler weather to make your landscaping shine? Prune and mulch your perennials to be sure they're as well insulated as possible before colder weather hits. Spend a sunny but cool morning planting bulbs, then make a schedule to feed and water what you've planted so each can spend the Winter growing and preparing to burst through thawed ground once Spring hits. Take special care with trees—studies show that trees planted in the Fall are more successful and the cooler weather means less watering and maintenance for you. The little bit of patience you'll need now will be well rewarded once Spring comes again.
Here in Johnson County, it's also wise to get a jump on weed control now, rather than waiting until Spring or Summer. Why? K-State Research and Extension Center explains that broadleaf weeds (think dandelions, henbit, and chickweed) germinate in September and October, then overwinter as small plants. You have to look closely to see them—they're no bigger than a quarter. Taking care of those weeds now means the Spring and Summer proliferation that so often overtakes even the most methodically attended lawns can be stemmed before it starts. Be sure to choose your control method wisely; granular and liquid chemicals both work, but each has distinct advantages and disadvantages.
Olathe Landscaping Company Huston Contracting is Here to Help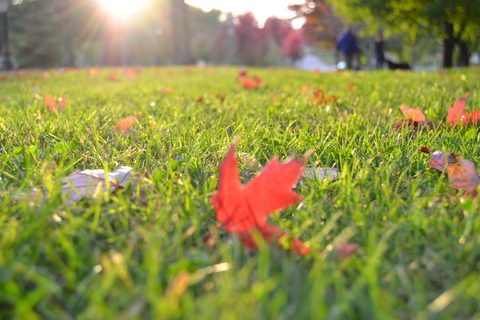 And this is why having a schedule matters: if you plant grass seed in the cooler Fall months, you shouldn't treat your lawn with herbicide until those seedlings have been mowed two-three times. Taking a few minutes to think about coming weather conditions and how you'd like your landscaping to look once the snow melts.
Want to know more about prepping your lawn for cold weather? Have questions about what an Olathe landscaping company can do for you now and through the year? We welcome questions and would love to hear what you think. Send us a question or give us a call—we're here to help!