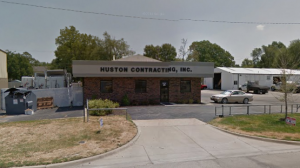 Our company was founded on April 5, 1966 under the name Huston Asphalt. The original owner was Milton Huston (1927-2002), along with his wife, DaOnne. The company's primary line of work was small asphalt paving jobs such as driveways, parking lots, etc. Huston Asphalt typically found most of its work in Olathe and the surrounding Johnson County area. We paved for well-known commercial and residential building contractors, including Rose Construction, Dutoit Construction, Marvin G. Allen Builders, Joe Donahue Homes, and Jack Petzold. Huston Asphalt also did a considerable amount of work each summer for the Olathe Public School District, as well as Gardner-Edgerton and Desoto. Huston Asphalt completed paving projects at Delco Battery, Griff Crawford Dodge, First National Bank of Olathe, and Patrons Bank & Trust. Our company constructed the original athletic track and football field for Mid-America Nazarene University in the spring of 1977.
Doug Huston, the company's current Owner and President, joined the company in 1973. In 1978 facing an anemic economy, 21% interest rates, and the lingering effects of the Oil Embargo, Doug began to transform the company from a paving contractor into a telecommunications contracting company. In March of that year we entered into a Contract of Continuing Nature with Southwestern Bell Telephone Company. Bill Maggard was instrumental in helping us into this market. The corporate name was changed during that period to Huston Contracting, Inc., designed to reflect this broader scope of construction work. At this time, our company began completing projects on a small scale for AT&T. Then in 1979, Doug led the company to take a much bolder move. The cable television revolution was just beginning. His visionary hunch was purely instinctive, however, his idea proved to be accurate as Huston Contracting, Inc. began installing hundreds of miles of coaxial cable television. A defining moment in this new endeavor came in 1980 when Landmark Cablevision out of New York purchased Olathe CATV along with Jackson County Cablevision. Huston Contracting, Inc. was already working for both of these companies as a new and aggressive round of capital investment was deployed. Our company continued to expand its telecommunications work on a much larger scale with Southwestern Bell after the divestiture of AT&T in 1984.
With the ever-expanding business operations, Doug's wife, Mary, joined Huston Contracting, Inc. in 1980. Mary's commitment, intelligence, and work ethic could never be over-stated. In the late 80's through the 90's we expanded once again by developing various tracts of land to provide home builders lots for construction. As the years passed, the company continued to thrive while never completely leaving behind its roots in the asphalt side of business. Huston Contracting, Inc. remains strong today, after surviving the worst downturn in the economy since the Great Depression from 2008-2012. That was a period of time in which we witnessed many friends and business competitors swept away by the economic tsunami. In 2009, Douglas R. Huston joined the construction company as the family's third generation. Today, Huston Contracting, Inc. is working diligently to sustain its success in the telecommunications industry, along with concrete and asphalt repair crews, lawn and landscaping, landscape design build, and directional boring services for both public and private projects.
The Huston Family continues to live out their faith by giving back to the community in many various ways. Their generosity has been extended to the Miracle League Family Center, Kid's TLC, the Cook Center on the campus of Mid America Nazarene University, Olathe Medical Center's Charitable Foundation, Olathe Bible Church, New Hope Food Pantry, Olathe Public School Foundation, and Youth Sports for more than 30 years.